We always enjoy hosting captivating guests on our Disrupt Your Career podcast. We thought you might enjoy the spoon-fed version of what to read from these great authors if you want to advance or even disrupt your career. Here it is – happy holiday reading!
Forever Employable: How to Stop Looking for Work and Let Your Next Job Find You
By Jeff Gothelf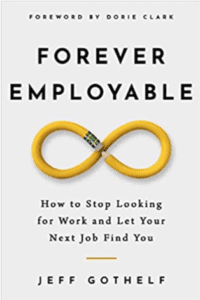 After spending the first 10 years of his career climbing the corporate ladder, Jeff Gothelf decided to change his approach to staying employed. Instead of looking for jobs, they would find him. Jeff spent the next 15 years building his personal brand to become a recognized expert, consultant, author and public speaker. In this highly tactical, practical book, Jeff Gothelf shares the tips, tricks, techniques and learnings that helped him become Forever Employable. Using the timeline from his own career and anecdotes, stories and case studies from other successful recognized experts Jeff provides a step-by-step guide to building a foundation based on your current expertise ensuring that no matter what happens in your industry you'll remain Forever Employable.
This handy guide to your career and professional development shows you how to create your own content, use it to build your expertise and credentials and then scale it to build a continuous stream of income, interaction and community. As organizations seek to reduce costs, automate tasks and increase efficiency, how do you ensure you don't end up outside of those plans? Forever Employable shows you how so that you're always ready for the next step in your career. Reduce your stress, build your community, monetize your platform — that's being Forever Employable.
Read Jeff's book →
Listen to Jeff's Disrupt Your Career podcast →
Climb: Taking Every Step with Conviction, Courage, and Calculated Risk to Achieve a Thriving Career and a Successful Life
By Michelle Gadsden-Williams with Carolyn M. Brown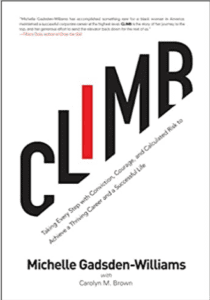 Renowned as a diversity and inclusion strategist, Gadsden-Williams held C-Suite positions at major organizations for many years . . . and then took the off-ramp to probe a different career path, launching Ceiling Breakers LLC, with the primary goal to help women and professionals of color reach their full potential. As a woman of color and corporate executive who has worked and traveled the world for several Fortune 500 companies — all while managing a chronic illness — she provides insight into overcoming the barriers facing professionals in today's workplace.
In Climb, Gadsden-Williams combines her inspirational life story with pragmatic solutions to address problems facing women in corporate America, offering a professional playbook for tackling today's most pressing workplace issues.
Read Michelle's book →
Listen to Michelle's Disrupt Your Career podcast →
Couples That Work: How Dual-Career Couples Can Thrive in Love and Work
By Jennifer Petriglieri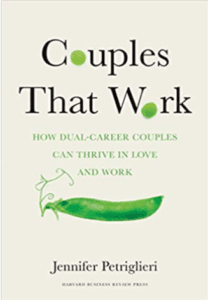 Finding fulfillment in both love and work isn't easy–but it's possible. The majority of couples today are dual-career couples. As anyone who's part of such a relationship knows, this presents big challenges: trying to raise kids and achieve career goals while caring for and supporting your partner can seem impossible. Yet most advice for dual-career couples fails, framing the challenges as a zero-sum game in which one partner's gain is the other's loss and solutions feel like sacrifices or unsatisfactory trade-offs.
This book is different. In Couples That Work, INSEAD professor Jennifer Petriglieri rejects conventional, one-size-fits-all solutions and instead focuses on how dual-career couples can tackle and resolve the challenges they face throughout their lives–together. She identifies three key phases of exploration and personal growth in every couple's work-life journey, showing how partners must navigate these together to strengthen their bond.
Based on a five-year research project, the book includes interviews with couples from over thirty countries–from executives to entrepreneurs and from twentysomething newlyweds to dual-career grandparents.
Filled with vivid real-life stories, keen insights, and engaging exercises, Couples That Work will help couples develop their own unique answers to that most pressing question: How can we successfully combine love and work?
Read Jennifer's book →
Listen to Jennifer's Disrupt Your Career podcast →
The Inside Gig: How Sharing Untapped Talent Across Boundaries Unleashes Organizational Capacity
By Edie Goldberg and Kelley Steven-Waiss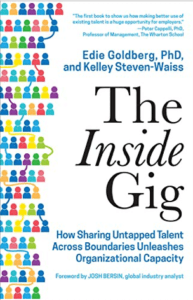 Unlock the hidden skills within your organization to keep your employees happy and engaged, improve your organization's agility, and lower your costs. What if the talent you're seeking to hire is already on your company's payroll but going untapped? Employees often have capabilities and aspirations that go far beyond their current job descriptions. The Inside Gig will show you how to optimize and energize your workforce by deploying the skills of the employees you already have inside your firm across organizational boundaries.
Written by thought leaders and practitioners in the future of work, this book will explain how to:
Uncover the hidden skills within your workforce
Create a new « Talent Operating Model » to uncover and cost-effectively match the right talent to real-time business challenges
Apply machine learning and AI to managing the allocation of resources across departments
Bust the « functional silos » in your company to create agile, collaborative teams
Improve employee retention by offering employees the opportunity to expand their careers within your organization rather than leaving in search of new challenges
In a rapidly changing economy that demands the constant reskilling of workers, the future belongs to companies that can access and deploy talent quickly and efficiently. Read The Inside Gig to start gaining your competitive edge today.
Read Edie's book →
Listen to Edie's Disrupt Your Career podcast →
The Compass and the Radar: The Art of Building a Rewarding Career While Remaining True to Yourself
By Paolo Gallo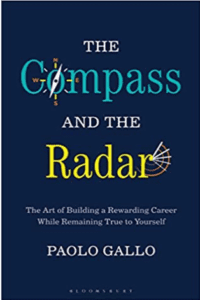 Paolo Gallo offers a unique pathway toward identifying the right career, finding the ideal job and developing a moral compass–the solid value system that will then anchor the reader in their professional lives.
With a creative and engaging mix of coaching practice, management theories, case studies and personal story-telling, this book helps readers to identify both their own compass–which relates to integrity, passion and internal value systems–and radar–which helps them to understand organizational complexity and 'read' workplace dynamics and situations.
The Compass of Success is founded on a series of searching questions that will enable anyone to find their compass and radar to achieve personal success: How can I find out what my real strengths and talents are? Do I love what I do? How can I find a job with a company that truly reflects my values? What are the prices I am willing to pay for a meaningful and rewarding career? How should I define a successful career?
Key chapters offer practical tools, as well as insights on the trade-offs and difficult choices that everyone will need to make at some point in their careers–all of which will underline the importance of having the most robust moral compass.
In the midst of a volatile and uncertain world, one in which technology, AI and digital resources are transforming the work environment, The Compass and the Radar allows readers to pause, reflect, and consider who they are, what they stand for, and how to remain free.
Read Paolo's book →
Listen to Paolo's Disrupt Your Career podcast →
The Intrapreneur: Confessions of a corporate insurgent
By Gib Bulloch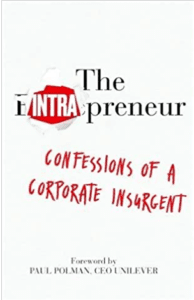 Today, over half of the largest economies in the world are global businesses – controlled by the few, and impacting the many. Business clearly has the power to change the world – but what if we, as individuals, had the power to change the world of business?
For over a decade, Gib Bulloch led a corporate "guerrilla movement" within one of the world's largest global consulting organisations. Against the odds, he created a not-for-profit inside one of the most profit driven corporations in the world. Plaudits, prizes and promotions followed. But success came at a price: It ultimately cost him his job, his health and perhaps even his sanity as he found himself the unlikely resident of a psychiatric hospital in Glasgow.
The Intrapreneur is an honest and insightful critique of the "craziness" of today's business environment – and a call to action for a new breed of social activist working within, about to join or completely disillusioned by today's business world. Finding your purpose… can feel like losing your mind.
Read Gib's book →
Listen to Gib's Disrupt Your Career podcast →
Wired for Disruption: The Five Shifts in Agility to Lead in the Future of Work 
By Henna Inam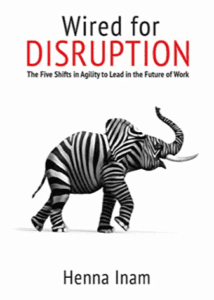 The COVID-19 pandemic is disrupting nearly every aspect of our daily lives, but as Henna Inam points out in Wired for Disruption, agility is already a hardwired trait in each of us. Her timely book gives us the 15 accelerators (specific tools and practices) we need to switch on our in-built agility in order to thrive and be a force for good in times of disorder and chaos.
There are five big challenges of leading in disruptive times: First, our neurobiology sees disruptive change as a threat to survival. This evolutionary reaction slows down our adaptation by reducing cognition and increasing burnout. Second, our old mindsets and biases prevent us from seeing new reality clearly. This prevents us from being creative. We need meta-learning to learn, unlearn and relearn. Third, our threat states and fluid teams of the future make collaboration harder, just when it is most needed to create opportunities. Fourth, while we recognize we're more interdependent than ever, we are missing the skill sets to influence our wider eco-system. Fifth, upskilling and growth is urgently needed for millions to solve our collective challenges. This requires a step-change in our ability to grow ourselves and others.
These are Inam's Five Shifts in Agility that we need to switch on: Neuro-Emotional Agility, Learning Agility, Trust Agility, Stakeholder Agility and Growth Agility: the ability to grow ourselves and others to accelerate a future-ready workforce.
Disruptions are opportunities to re-imagine, re-invent, and re-invigorate – to create something better. We have many collective problems to solve for a thriving planet that works better for all. Henna Inam's Wired for Disruption helps each of us be inspired, use our voice, and activate the embedded agility already within us.
Read Henna's book →
Listen to Henna's Disrupt Your Career podcast →
Career Crossroads 
By Adrian Choo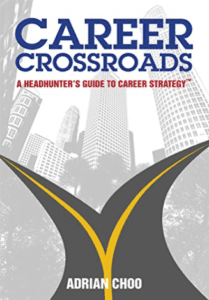 Are you at the crossroads of your career right now? Should you stay or leave? And with mounting responsibilities, how can you make a successful switch?
Your career is your greatest asset. An experienced headhunter in an international firm, Adrian Choo shares the insights gathered from interviewing successful business leaders across the globe. He distills the essence of his findings into a set of simple Career Strategies™ that you can follow. Learn how to approach this challenge and successfully navigate opportunities to achieve career success and fulfillment.
If you are an undergraduate, this is an ideal primer for career planning. It will help you to achieve success in your future career.
If you are in your early thirties, this will discuss the factors affecting your marketability and help you to start planning for the future. It also identifies career speed bumps and potholes to avoid.
If you are in your early forties, this will help you to develop a personalized Career Strategy™ to stay relevant for the next half of your career. Learn how to successfully reinvent your career by leveraging on your Career Pivots™ into different industries or functions.
If you are in your fifties, this book provides a framework for you to attach your own career experiences, a useful tool for mentoring your staff about their own career moves.
Read Adrian's book →
Listen to Adrian's Disrupt Your Career podcast →
And you? What book have you read in 2020 that inspired your career reflections or decisions? Write to us to let us know your favorites at https://disrupt-your-career.com/contact/