This year we have had more guests on the Disrupt Your Career podcast and of a higher caliber than we could possibly have dreamed of. As thought leaders in their fields, they have mostly written one or more books, so we bring you this collection for your Christmas stockings or New Year reading lists. Enjoy!
The Seductive Illusion of Hard Work
By Utkarsh Amitabh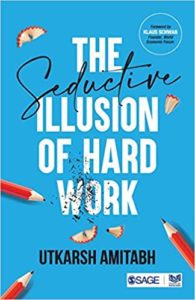 People take great pride in flaunting their punishing work routines. The Seductive Illusion of Hard Work establishes that hard work is necessary but insufficient for success. In fact, misdirected hard work is way worse than no work at all.
This book includes various real-life examples from the corporate world that has constantly exaggerated the role of hard work and underplayed the critical role of choices and mentorship in creating conditions for success. The young workforce is experiencing burnout and it is suspected that the romantic proclamations and obsession about hard work has lots to do with it. This book discusses all these issues and finally offers a solution-oriented approach to the myth about succeeding in work life.
Listen to Utkarsh's Disrupt Your Career Podcast →

Changing Gear: Creating the Life You Want After a Full On Career
By Jan Hall and Jon Stoke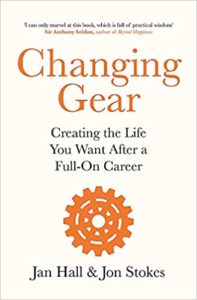 Coping with transition can be hard at every stage of life, but it presents unique challenges as we come to the time of our lives when we are facing the end of full-on, full-time work.
Changing Gear looks at why work is such an important part of a person's identity, and how challenging it can be when it's time to change gear, whether that's to explore a new path or take a step back from our careers entirely.
Offering insight, advice and practical exercises to help you make the right decisions, this valuable guide gives you the tools to navigate complicated situations, identify what's most important, and develop the skills you need to cope with change.
Listen to Jan and Jon's Disrupt Your Career Podcast →

The Long Game: How to Be a Long-Term Thinker in a Short-Term World
By Dorie Clark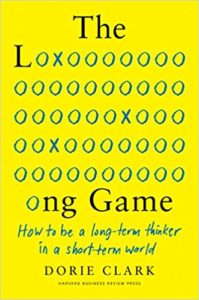 Today's professionals feel rushed, overwhelmed, and perennially behind. So we keep our heads down, focused on the next thing, and the next, without a moment to breathe. How can we break out of this endless cycle and create the kind of interesting, meaningful lives we all seek?
We need to reorient ourselves to see the big picture so we can tap into the power of small changes that, made today, will have an enormous and disproportionate impact on our future success.
In The Long Game, Dorie Clark shares unique principles and frameworks you can apply to your specific situation, as well as vivid stories from her own career and other professionals' experiences. Everyone is allotted the same twenty-four hours—but with the right strategies, you can leverage those hours in more efficient and powerful ways than you ever imagined. It's never an overnight process, but the long-term payoff is immense: to finally break out of the frenetic day-to-day routine and transform your life and your career.
Listen to Dorie's Disrupt Your Career Podcast →

Why Do So Many Incompetent Men Become Leaders? (And How to Fix It)
By Tomas Chamorro-Premuzic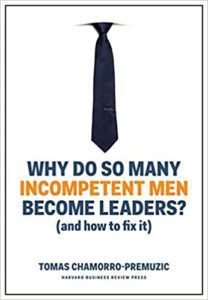 In this timely and provocative book, Tomas Chamorro-Premuzic asks two powerful questions: Why is it so easy for incompetent men to become leaders? And why is it so hard for competent people–especially competent women–to advance?
Chamorro-Premuzic points out that although men make up a majority of leaders, they underperform when compared with female leaders. Most organizations equate leadership potential with a handful of destructive personality traits, like overconfidence and narcissism. These traits may help someone get selected for a leadership role, but they backfire once the person has the job.
When competent women–and men who don't fit the stereotype–are unfairly overlooked, we all suffer the consequences. The result is a deeply flawed system that rewards arrogance rather than humility, and loudness rather than wisdom.
There is a better way. With clarity and verve, Chamorro-Premuzic shows us what it really takes to lead and how new systems and processes can help us put the right people in charge.
Listen to Tomas' Disrupt Your Career Podcast →

Own Your Career Own Your Life: Stop Drifting and Take Control of Your Future
By Andy Storch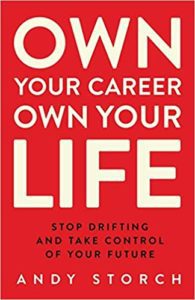 Are you searching for a fulfilling career and a life that feels meaningful? Do you want to wake up every morning feeling excited to start the day and confident that you are truly reaching your potential? Own Your Career Own Your Life was written for you.
Andy Storch spent years stuck in the wrong career and drifting aimlessly through life. Now, he is a professional coach, consultant, speaker, and author whose life mission is to equip others to live intentionally, love the life they live, and fulfill their true potential.
In Own Your Career Own Your Life, you'll learn how to direct your own career, prepare for the future, and ultimately get back in the driving seat of your own life.
This book is intended to be a practical guide. It is packed full of useful tips and easily actionable steps, as well as inspirational accounts of real-life events and helpful insights into the author's own life – including the exact, real-life strategies he has used to design a career and life he loves.
Listen to Andy's Disrupt Your Career Podcast →

The Right—and Wrong—Stuff: How Brilliant Careers Are Made and Unmade
By Carter Cast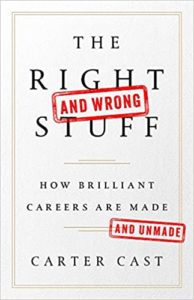 The Right – and Wrong – Stuff is a candid, unvarnished guide to the bumpy road to success. The shocking truth is that 98 percent of us have at least one career-derailment risk factor, and half to two-thirds actually go off the rails. And the reason why people get fired, demoted, or plateau is because they let the wrong stuff act out, not because they lack talent, energy, experience, or credentials.
Carter Cast himself had all the right stuff for a brilliant career, when he was called into his boss's office and berated for being obstinate, resistant, and insubordinate. That defining moment led to a years-long effort to understand why he came so close to getting fired, and what it takes to build a successful career.
His wide range of experiences as a rising, falling, and then rising star again at PepsiCo, an entrepreneur, the CEO of Walmart.com, and now a professor and venture capitalist enables him to identify the five archetypes found in every workplace. You'll recognize people you work with (maybe even yourself) in Captain Fantastic, the Solo Flyer, Version 1.0, the One-Trick Pony, and the Whirling Dervish, and, thanks to Cast's insights, they won't be able to trip up your future.
Listen to Carter's Disrupt Your Career Podcast →

Unique: The Future is in Your Hand
By Alexandre Pachulski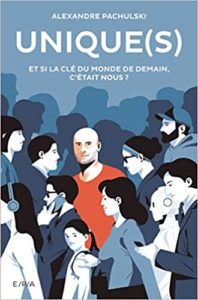 "Be yourself; everyone else is already taken" rightly said Oscar Wilde. Okay, but how? Nothing in the organization of our current society favours privileged access to oneself.
School? It teaches us a thousand and one things, none of which are aimed at self-knowledge. The world of work? It forces us to conform to old-fashioned norms that prevent the expression of our own talents. As for new technologies, they seem designed to standardize us more and more.
However, with the arrival of artificial intelligence, it is high time that we affirm the human quality which can never be replaced by a machine: the part that makes us unique. It is only in aligning what we do with who we truly are that we will be able to, together and each in our own way, contribute authentically to the society of tomorrow.
Alexandre Pachulski wrote Unique to make a committed argument, illustrated with many examples from pop culture, in favour of a critical revolution that will enable us to focus on our most precious asset: our human uniqueness.
Listen to Alexandre's Disrupt Your Career Podcast →

Reinventing You: Define Your Brand, Imagine Your Future
By Dorie Clark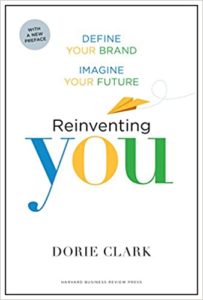 Are you where you want to be professionally? Whether you want to advance faster at your present company, change jobs, or make the jump to a new field entirely, Reinventing You, now in paperback with a new preface, provides a step-by-step guide to help you assess your unique strengths, develop a compelling personal brand, and ensure that others recognize the powerful contribution you can make.
Branding expert Dorie Clark mixes personal stories with engaging interviews and examples from Mark Zuckerberg, Al Gore, Tim Ferriss, Seth Godin, and others to show you how to think big about your professional goals, take control of your career, and finally live the life you want.
Listen to Dorie's Disrupt Your Career Podcast →

And you? What book have you read in 2021 that inspired your career reflections or decisions? Write to us to let us know your favorites at https://disrupt-your-career.com/contact/