We have had some incredibly fascinating guests on our Disrupt Your Career podcast in the last few months. Now you have had a chance to listen to their conversations with us, it might be time to dig in deeper and read their books too. Any or all of these will give you additional perspective on how to progress and thrive in your career. Happy holiday reading, wherever you may be headed!
Humans at Work: The Art and Practice of Creating the Hybrid Workplace
By Anna Tavis and Stela Lupushor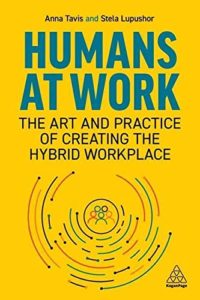 Is your organization strategically prepared for the digital and distributed workplace?
Technology, data analytics and artificial intelligence already impact how people work and engage with organizations. A dispersed workforce, greater transparency, social change, generational shift and value chain disruptions are driving new behaviors and expectations from the workplace. Together, these trends are shaping a new era of distributed and digitally enabled network of workers where the work comes to workers instead of the workers going to work.
In Humans at Work, employee and workplace experience experts Anna Tavis and Stela Lupushor advocate for the adoption of human-centric practices as a critical and necessary part of adapting work and workplaces to the future of work. Outlining the four factors (digitization of work, distributed workplaces, organizational redesign and changing workforce) driving the dramatic changes in the workplace, each chapter provides examples of how innovative companies are building workplace infrastructure and reshaping norms, serving new markets and adopting new technologies.
Filled with examples from both start-ups and established companies, Humans at Work is the workplace leader's guide to building a workplace that creates market value by making work more human.
Listen to Anna's Disrupt Your Career Podcast →

Humans at Work: The Art and Practice of Creating the Hybrid Workplace
By John W. Boudreau and Ravin Jesuthasan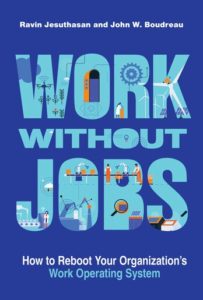 In Work without Jobs, the Wall Street Journal bestseller, Ravin Jesuthasan and John Boudreau propose a radically new way of looking at work. They describe a new "work operating system" that deconstructs jobs into their component parts and reconstructs these components into more optimal combinations that reflect the skills and abilities of individual workers. In a new normal of rapidly accelerating automation, demands for organizational agility, efforts to increase diversity, and the emergence of alternative work arrangements, the old system based on jobs and jobholders is cumbersome and ungainly. Jesuthasan and Boudreau's new system lays out a roadmap for the future of work.
Work without Jobs presents real-world cases that show how leading organizations are embracing work deconstruction and reinvention. For example, when a robot, chatbot, or artificial intelligence takes over parts of a job while a human worker continues to do other parts, what is the "job"? DHL found some answers when it deployed social robotics at its distribution centers. Meanwhile, the biotechnology company Genentech deconstructed jobs to increase flexibility, worker engagement, and retention. Other organizations achieved agility with internal talent marketplaces, worker exchanges, freelancers, crowdsourcing, and partnerships. It's time for organizations to reboot their work operating system, and Work without Jobs offers an essential guide for doing so.
Listen to John's Disrupt Your Career Podcast →

Th Bet on Yourself: Recognize, Own, and Implement Breakthrough Opportunities
By Ann Hiatt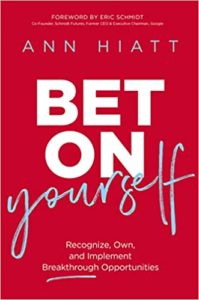 Take charge of your career and create a life full of learning, adventure, joy, and success utilizing these never-before-shared leadership principles Ann Hiatt learned working alongside the world's top tech CEOs—Google's Eric Schmidt, Amazon's Jeff Bezos, and Yahoo!'s Marissa Mayer.
Whether you're stuck in your current job, starting your first job and wondering how you can use it as a steppingstone towards your dream career, or mid-career and wanting to finally be recognized for promotion or a leadership role, this book is for you.
For the first time, Ann Hiatt shares both the daily habits and long-game strategies she learned working side-by-side for decades with the giants of technology at Amazon and Google.
Through clear guidance and incredible stories, Bet on Yourself will teach you:
How to define your abilities and speak up so that you can be recognized for the work that you do and the unique capabilities you bring to the table.
How to create opportunities for yourself when options appear limited and build a purposeful career regardless of your seniority or industry.
What it takes to build the confidence you need to build your dream career.
How to exchange your frustration over not getting the recognition you deserve for an empowered, actionable plan for taking control of your professional identity and get promoted.
These tried-and-true methods to take ordinary opportunities and create something extraordinary, and the leadership principles that guide the work of these celebrity CEOs, are directly applicable to your goals.
With a few consistent, daily habits you can build a future that exceeds your wildest expectations. No matter the opportunities available to you in your particular community or career stage, there is a path for you.
Listen to Ann's Disrupt Your Career Podcast →

Intrinsic: A manifesto to reignite your inner drive
By Sharath Jeevan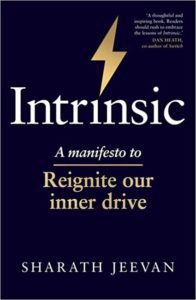 We are in a motivational mess today.
Many of us feel like we are going through the motions – as workers, managers, spouses and partners, parents and citizens. We feel jaded and unhappy with the organizations we are part of, whether that's the company we work for or our child's school. And some of us feel deeply alienated from the wider societies in which we live, particularly in the face of vast social problems – from climate change to our increasingly 'winner takes all' world.
But life doesn't need to be this way. Motivation thinking holds the key to this promise. Intrinsic uses motivation thinking not just to accurately diagnose these problems, but to find solutions. As a leading expert on motivation, Sharath Jeevan OBE helps us see how we can achieve more lasting fulfilment and success in our work, careers, relationships, parenting, and as citizens.
Jeevan applies the concepts of Purpose (how what we do helps others), Autonomy (our ability to positively change things) and Mastery (our sense of continually getting better) to help us see our motivation in these key life areas in a radically new light.
Jeevan takes us on a journey around the world to find practical and inspirational answers to solving our motivational crisis, harnessing ground-breaking research, from psychology and economics to philosophy and behavioural science.
Intrinsic shows us how we can fall back in love with our lives, and create the lives we want.
Listen to Sharath's Disrupt Your Career Podcast →
Repurpose Your Career: A Practical Guide for the 2nd Half of Life
By Marc Miller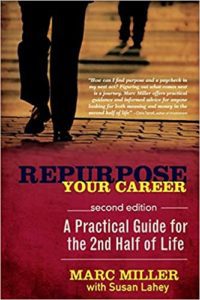 Since the 2008 economic downtown left many Baby Boomers unable to retire, Marc Miller decided to use his own experiences to help others pivot to a career that would fulfill them for the next 20 years. In his second book, Repurpose Your Career: A Practical Guide for the Second Half of Life he addressed the fact that the people seeking him out weren't all Baby Boomers. Many in Generation X were also either dissatisfied with their careers or were being displaced by ongoing technological and social disruption.
Repurpose Your Career third edition responds to another huge shift in work: In this age of disruption, digitization, and the gig economy, people need a new mindset and strategies to become continual learners, create their own flexible careers, and cope with ageism.
This book helps them do it. Miller's Career Pivot.com has been listed as a top career site by organizations including Forbes and Career Sherpa, and his strategies for a career transition have been featured on Mashable, Life Hacker, Money, Flexjobs and Sixty & Me. His second book was listed as one of the best career books of all time by Book Authority.
Written with professional writer Susan Lahey, Repurpose Your Career, the third edition is not only an easy read but packed with practical information and specific action steps. It's the guidebook people in their 40 and beyond need to carry them into the next phase of life.
Listen to Marc's Disrupt Your Career Podcast →

What about you? What have you been reading that has captured your imagination in this sort of area? Do let us know some of your favorites, and please, make suggestions of podcast guests you would like to see us inviting next. https://disrupt-your-career.com/contact/