Claire Harbour and Antoine Tirard 
As career coaches, we helped hundreds of professionals deal with career changes. We discovered that those who thrive in a diverse and changing working landscape use six success factors that we call the 6C's for career agility: Commitment, Control, Curiosity, Change Agility, Connections and Confidence. We like to name those who demonstrate the 6C's 'career acrobats'. Acrobats are known for incredible performance, human exploits of balance, flexibility, strength and coordination. They are agile, strong and creative.
While exploring this concept and creating our 'How to be a Career Acrobat' online course, we wanted to go further by talking to real-life acrobats and see what we could learn from them about the 6C's for Career Agility. So, we found Harm van der Laan and Maartje Bonarius, who are contemporary circus artists, using juggling, visual arts and acrobatics to create award-winning shows across the Netherlands and beyond. We also met with Deelia Jōgi, who is a dancer, gymnast, aerial silks acrobat, influencer and model, working from Salzburg in Austria, and managing her portfolio of business and artistic activities with aplomb. We are sharing here a "potted" version of the story of each acrobat, and then focus on how they bring their own touch to the 6C's, and derive value and strength from them.
Maartje and Harm
Maartje was seemingly pre-destined for a life in entertainment. Her father was a romantic hippy, who had traveled the world, selling earrings and bird whistles from exotic locations in street markets in the Netherlands. When he became interested in juggling, he made his own balls, and began to perform in the streets, of which he was already part of the scenery. A group of performers was created, and Maartje was naturally included, so she learnt to juggle and to ride a unicycle. At 10, she joined an acrobatics course, and on completing high school, enthusiastically took up the place she was offered at Circus School within the prestigious performing arts university of Codarts in Rotterdam.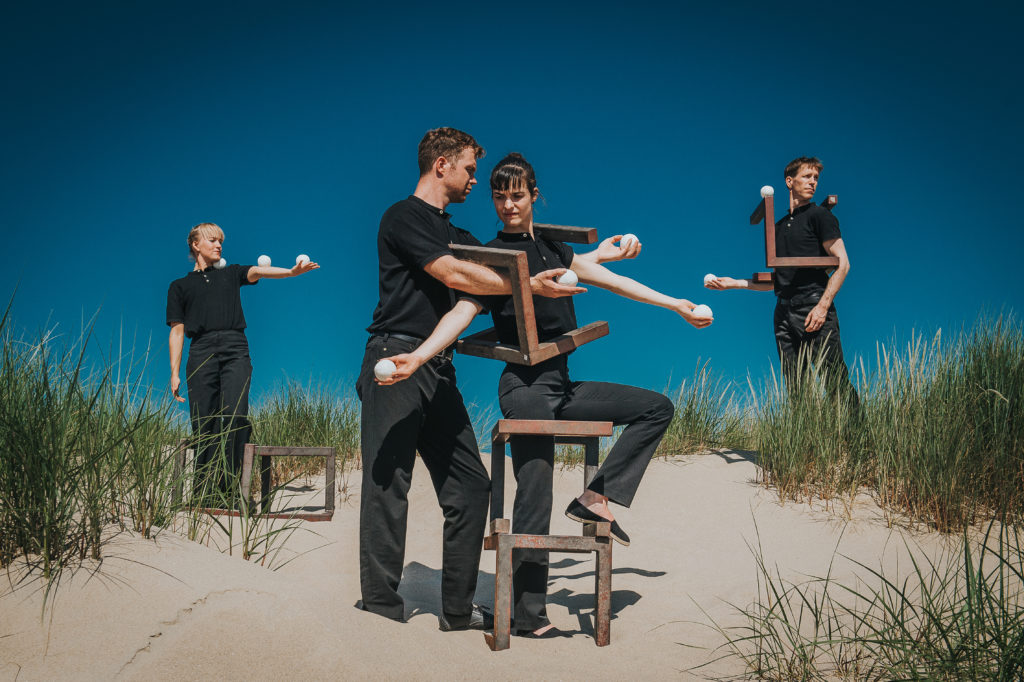 It was at Codarts that Maartje met Harm, whose background was far from similar to hers. Harm had grown up in a traditional middle-class family. He went to circus club alongside football, piano and judo, though he realized early on that he would always turn to a diabolo rather than kick a ball around when he was bored. While his parents pushed him to practice the piano, he developed his skills on the unicycle, and was invited to perform at a children's party, when he was only 12. His business flair developed swiftly, as he pinned up ads in supermarkets, ran customer satisfaction questionnaires and built his franchise with confidence. However, despite the pull of acrobatics as a career, he took the "safe" route and did a degree in Psychology before going to the circus school. There, Harm decided to complement his juggling prowess by training in hand to hand duo work with Maartje. This was against all odds, as she is tall, he is skinny, and he was not deemed particularly skilled at "moving". But with grit and perseverance, he and they made it.
On graduation, the couple spent a period in France, where contemporary circus is popular and integrated in the arts world. Here they were inspired to take up the challenge of bringing this art to the Netherlands, where it was seen as marginal and not worthy of support. Facing slow uptake, and having been mostly constrained to perform at festivals rather than theaters, then the couple adroitly took on more 'commercial' work, such as events and workshops, where they learnt a lot, kept the bank accounts balanced, and started to convince the audiences that what they did had more than a quirky value. Maartje recalls how her "day was made" when she heard a small girl comment to her mother "You see, I was right, women can be strong too!".
With increasing visibility came new funding, though it was not easy. The small company they formed has a new physical location, which has become a circus hub for the whole country, and now they are influencing and inspiring a whole new generation of acrobats and artists. During Covid, they created online performances made at home – scenes from the bathroom or the kitchen. However, that challenge pales into insignificance now, as Maartje faces life in a wheelchair, having developed a nervous system disorder. She is working on accepting her situation, and finding new ways to express her endless creativity, such as directing, and her greatest desire is to find the balance, accept the "unfair" aspect of life, to explore and to keep the magic coming. 
Deelia 
Many would feel that Deelia's beginnings looked like a fairytale. Plucked out of the obscurity of a mid-Estonian country village, into the excitement of the national gymnastics team at age 12, she learnt that she enjoyed the spotlight. Her gymnastics and dance club CEO mother had put her in training at 4, to "let off steam" but all could see her natural flexibility and star quality from early on. Much of her training was done in Russia, and unfortunately full of verbal and physical abuse. But she took solace from the fact that as the "soloist", she was physically spared and "only received harsh and cruel words". Her drive came from a constant sense of wanting to do better than last time, for self-improvement, rather than pure competitiveness, and she loved climbing onto a podium, treasuring the medals. As long as the benefits outweighed the costs she continued. At 15, she decided the backstabbing involved in having the star role and being the subject of much envy was enough, and quit the team, amidst strong feelings of disillusionment and loss. While her decision was supported by her family, she went through two brutally empty years, in which she did not find any substitute for the gymnastics, and struggled to find her place.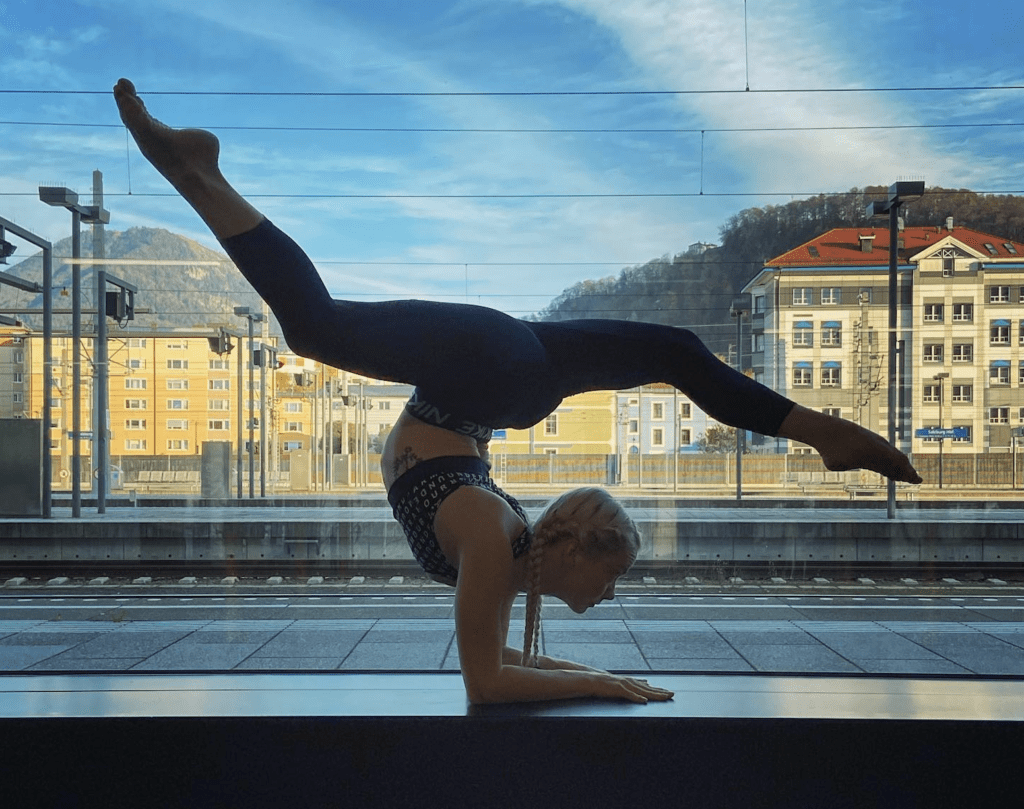 Gradually, Deelia ventured out, finding a new passion in dance, where there was much less competitive rivalry. She also trained as a coach with the Estonian Olympic Committee, and began offering her services, while still in high school. Her social life was still quiet, but her energy was returning, as her new pursuits took on speed. She was enjoying the fact of doing things for pleasure, with no pressure for success or victory, and even actually gained weight, to a more natural and healthy level, as opposed to the anorexia that goes hand in hand with gym. With family pressures, including playing an increasing role as "mother" of her younger sisters, plus a growing sense that she had something more to offer the outside world, Deelia started to look for dance courses at universities overseas. She raised the funds for auditions, but could not afford to pay for the place she was offered in Salzburg. Others might have balked at this stage, but Deelia went out, and convinced several companies to give her a full ride to school.
Four years of contemporary dance training in Austria tested Deelia in many ways: she tried to fit in to the baggy-clothed, alternative environment, while wearing her pink, tight-fitting gym clothes, but realized gradually that she was comfortable with who she was. She became a model and Instagram influencer, made videos for TikTok, meaning that she had more money to get a nice flat, but she still ate her lunch alone, ostracized as "the commercial girl" in a world that eschews all that lucre. And then she realized the power of using all her skills to build a business: she set up online stretching classes, built affiliate relationships with sports stores at home and overseas, and did incredible feats like hanging from silks beneath a paraglider, over a valley in the Alps. She is comfortable in her skin, and exploring ever further. There will be no more sadness in her life, as she does not any longer look to others for validation.
These extraordinary, larger-than-life characters have range, that is for sure. Their agility is unquestionable. Now, let's look at how they use the 6C's and what we can learn from them.
 Commitment
What it is

The extent to which you are focused and engaged in the process of managing your career.

How real-life acrobats use it

Maartje: I am always 100% into it, because when you do a trapeze jump, you can't really afford to do it at 80%.

Deelia: In our fields, details are so important. We are so used to doing tedious work, picking on little things and focusing on details that the audience might never see, but these make a big difference in ourselves. Artists are very patient, hardworking and great self-critics.

Harm: I am not the most coordinated person in the world: I was small, stiff and fat, but I was attracted to the things that I am less good at, and with grit and perseverance, I got there. As long as you love what you do, and work with willpower, you can get there.

Questions to ask yourself

How important is my career to me? How often is it on my mind?

How much time do I spend thinking about the future of my work-life?

How intense and perseverant am I in working on the actions I have set for myself?
Control
What it is

The extent to which you feel some control over your career and a responsibility for building it.

How real-life acrobats use it

Maartje: Hard work trumps talent every time! My brother was more talented than me, but I worked harder, whereas he gave up when he could no longer rely purely on raw talent.

Harm: At the beginning, we did some commercial things like events and workshops, and despite our initial fears, we learnt and lot and enjoyed it. I have always loved the feeling of harmony and control with the objects.

Deelia: I find pleasure in holding the observers' attention and making them feel something that they are usually not feeling. I feel like I control the situation fully.

Questions to ask yourself

How proactive – or reactive – am I when it comes to career decisions?

To what extent am I taking a deliberate and organized approach in choosing goals and creating the conditions for achieving them?

How far am I taking responsibility for my actions?
Curiosity
What it is

The extent to which you are exploring the world of work and seeking information about roles, careers and their requirements.

How real-life acrobats use it

Maartje: Everything is potentially interesting, and curiosity is a muscle that needs to be worked on. The discovery process in circus feeds that and we never lack inspiration.

Deelia: I have been changing since I was a very small child, always opening up to new activities, and whenever something is becoming "old" I will look for new doors with no hesitation.

Harm: We have conversations with absolutely everyone, whether about the circus sector in France, or coding and algorithms in maths, or architects to get the national circus hub space built. We have made shows about loneliness and now we are producing an acrobatic version of A Clockwork Orange. Range is what we do.

Questions to ask yourself

How curious and hungry am I to discover new things in life?

How largely and deeply do I probe when exploring new possibilities?

What habits or practices do I use to work on my curiosity "muscle"?

Change agility
What it is

The extent to which you like to experiment, explore new options and cope effectively with the discomfort of change.

How real-life acrobats use it

Harm: We don't know what the future will bring. If it does not work, let's try B and if not B, then C. Finding alternatives is natural.

Deelia: I tried baggy clothes, to fit in, but that was not me. I tried to be less "commercial", but that was not me either. In trying to be someone else, I learnt to be a more adaptable version of me, and that is what makes me happy: always exploring, always responding to new challenges.

Maartje:  I had always feared I might get sick or injured, and when it happened, I started by adapting my performances, juggling while seated, for example. I now have a lot of questions: How far should I push my body? Should I step off the stage? I will continue to evolve, always finding ways to tell and express the things I want to share.

Questions to ask yourself

Do I value new perspectives and explore new opportunities?

How frightened or excited am I when experiencing new or uncertain situations?

To what extent do I push myself outside of my comfort zone and build my change agility over time?
Connections
What it is

The extent to which you are building your network, and the efforts you are making to meet people and create connections.

How real-life acrobats use it

Harm: I always loved being in symbiosis with the audience: from the children I entertained at parties when I was a teenager, to the viewers of our online shows last year. I always want to understand more about them, so I can touch them ever more deeply.

Deelia: Whenever performing acrobatic stunts that give me an adrenaline rush, it will give the same to the observers. It is at the same time a challenge to maintain their focus and hold their attention because once you lose it it's similar to trust: it is hard to get it back. And a true master of performing is someone who knows how to play with someone's attention and focus.

Maartje: In our first show, we connected so strongly with the audience, that they were crying. We could not ever return from that point on: the audience was touched, and so were we.

Questions to ask yourself

Do I see connections and networking as essential or meaningless for my career?

How do I feel about connecting with new people – enjoyable or uncomfortable?

What's my way to initiate, deepen and nurture relationships with people over time?
Confidence
What it is

Extent to which you have faith in your ability to make and carry out wise career decisions and realistic choices.

How real-life acrobats use it

Harm: Failing is an integral part of learning. You cannot learn a new trick without dropping the ball 100 times first. You can confidently build the failure in to whatever project you undertake. We are constantly egging ourselves on to do more and better.

Maartje: As a kid, I was given an opportunity to try a unicycle show before an audience. I played with bumping into them. I developed the trust to play with them and loved the interaction. This filled me with confidence.

Deelia: When it came to deciding to set up my own business, it felt natural, despite my young age and inexperience, because now it is easy to learn online. Also, I felt inspired by my mother's experience in becoming a CEO in her 20's.

Questions to ask yourself

To what extent do I believe in myself and my abilities?

Am I willing to play, take risks and learn from failing?

How do I overcome obstacles and recover from setbacks?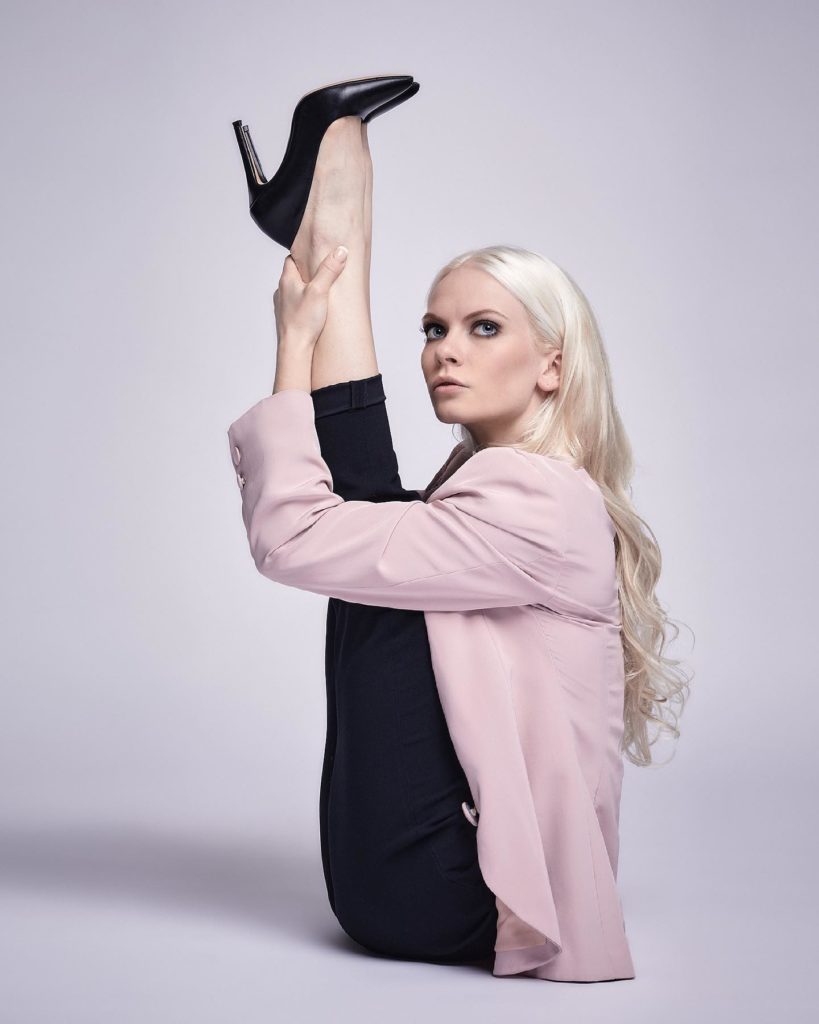 Credit: Roman Groesswang
How do you build career agility? 
Like Maartje, Harm and Deelia, many leaders we met have mastered the art of thriving during change and building career agility over time. Some do it more naturally, some learn it through experience and hard work. The good news is that one doesn't need to have all six C's to be a career transition ninja. Everyone can capitalize on their own strengths. What are yours? In our online course 'How to be a Career Acrobat', you can assess yourself to identify how you are currently using the 6C's and develop strategies to nurture and strengthen them.
Links to learn more about Maartje, Harm and Deelia