For most people, taking a step down feels like career suicide. But these three executives prove it can be a viable choice and look back at it as a turning point for the better in their career.
Winnie Jiang, Claire Harbour and Antoine Tirard
We are currently encountering stories daily of the great resignation. The pandemic has turned the world on its head in many ways, and the opportunity to move away from a job that is no longer satisfying, or meaningful, toward a desired balance is tempting to many. But so much of what we observe at this time is in the moving away from, the realization of what an individual will no longer tolerate, a tiredness and frustration, but not necessarily a clear compass point to "what next?".
While frustration can be a valuable catalyst to change, we wanted to discover more about what people do when they are deliberately and proactively seeking greater meaning and happiness in their work life. In this article we wanted to focus on stories of career fulfillment which involved a clear step "down" from prestige, recognition, money and job stability. We also wanted to learn from professionals who made these bold decisions to step down years back, long before the pandemic pushed people's buttons in its own peculiar way. So, get ready to meet some courageous characters, who bucked the trend, learned to follow the path less travelled, and found happiness at the end of their own particular rainbows.
Charlotte – from finance manager to health nutritionist
Charlotte grew up in a family of accountants: her father, brothers and uncles all worked in this field, so it was no surprise that she ended up studying in Edinburgh for a path to the same sort of future. However, she had been torn along the way, with strengths in both science and the arts, and did not much like categorizations.
Her career began safely and predictably enough, going through big four firms to become a chartered accountant, and then joining Marks and Spencer in the internal audit team. She had been tempted by the glamor of the fashion industry but soon realized that "if you are doing audit with a bunch of boring men in their 50's, it doesn't really matter what product is being sold; the work is the same whether you are selling clothes or computers!"
The next shiny object was investment banks, who were aggressively recruiting. Charlotte ended up at JPMorgan Chase, where she doubled her salary and constantly shifted the focus of the job, learning a great deal along the way. After ten years at JPMorgan, there did not seem to be much further to go, so she moved across the City to Goldman Sachs, into a more technical project management role, where things were "less exciting, but the pay was wonderful!"
Typical life events intervened: she had her first child, and her husband did an MBA at INSEAD, meaning that they were spending time in Paris, where they made their home. Goldman accommodated her keeping her job but working from home, and this was long before the pandemic. However, on producing children number two and three, she yearned to be fully based in Paris, while all relevant jobs were focused in London. She got "stuck into a role she did not really like and went from being the woman to watch to being the woman in a box." With the overt intention of finding a new role in Paris, Charlotte assumed that companies would be lining up to hire her, but without strong French language skills, and up against a much slower job market, she threw in the towel and resigned.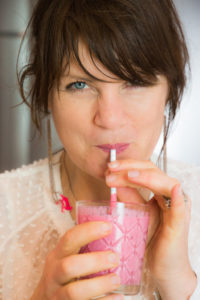 Name: Charlotte Debeugny
Nationality: British
Living place: Paris, France
Education : BA, Accounting and Finance Chartered Accountant (ICAS), BSc, Nutritional Therapy, Master's, Food, Nutrition and Health
Old business career: Internal auditor, financial controller and manager in the retail, advertising and banking sectors
New happy career: Nutritionist and author
With the luxury of her husband being in a highly remunerated position, Charlotte opted for a field that had always fascinated her. Having grown up in a home environment full of guests and joyous celebrations around a well-laden table, she had always loved food and its science. So she embarked on some online study, taking the best of what was available, and combining this with enjoying being at home with the children.
The assumption Charlotte had developed was that she would wind up as a consultant in nutrition, using her no-nonsense, structured, analytical approach to things. And the thrill of doing something tangible, as compared to the world of derivatives, was enormous. An additional edge was that her business mind led to partnership opportunities and other collaborations, such that she was being referred by the doctors who were also offering her office space for a day or two per week. All so efficient that she could practice, carry out further study and be in time to pick up the children from school.
What are the frustrations, if any, for Charlotte in her new life? "Flaky last-minute cancellations still drive me mad, but I have got better at setting the right boundaries from the get-go. And then there are the charlatans who spread around misinformation, and debunking that can be a huge drain on my energy!"
A further joy has been the ability to shift emphasis with changing circumstances. At the outset, Charlotte's husband was in a big corporate role. Now he is the founder of a FinTech startup, and so the risks and rewards are spread differently across the board. Since the children are now teenagers and do not require the same attention, Charlotte can work more and smarter, including doing the accounting for the startup. She enjoys this "multi-careering", especially since "numbers don't let you down!" There is also the benefit of the whole family observing hard work at first hand. The children know that money does not grow on trees, and this aligns well with Charlotte's values.
What is Charlotte's advice for those considering a career down-step in search of happiness? "Don't start the dream till you have a financial cushion – or it can turn into a nightmare! Or else, there is possibly a compromise of staying in your current role and bootstrapping part time. You can do both. It's a good test of if you are hungry for it – you will be up till midnight if you really want it."
And what about plans for the future? "In a perfect world, I would be seeing the clients who really need advice – people on low incomes for example who are struggling to cook and source balanced meals, and not just the wealthy. And I would love to have a restaurant to serve healthy food. It would be unpretentious, by the sea, with local products, more vegetables and less protein. I am so passionate about helping people feel healthy and well. So, if that is the one tiny thing I can do to improve the world, that will be it".
Brandon – from hospitality and spirits businessman to bar owner and documentary maker
Brandon, son of a coal miner, was born in the early 1950's and grew up in the rapidly declining region of the Rhondda Valley in South Wales. Against all socio-geographic odds, he gained a scholarship to study French at Oxford, and thus widened his horizons significantly. As a teenager, he had already begun working in a hotel in France, at the suggestion of a language teaching assistant he had encountered during high school years.
On completing his studies, Brandon applied for the graduate program at the UK's Forte Group, a conglomerate which owned and operated hotels and restaurants from motorway service station joints to the Plaza Athénée in Paris. Brandon was given first one, and then increasing numbers of bars and restaurants to operate in central London. He led his teams with a humorous demeanor, plus a sense of collective responsibility, and his open, friendly approach to the clients won him much loyalty. Having grown in managerial stature, Brandon was then offered an opportunity to work in the whisky industry, taking on a series of roles in sales and marketing for first one, then many Scotch whisky brands in Spain, France and across the whole Iberia and Caribbean regions.
In 1981, Brandon was in Barcelona seeking out a Spanish distributor for one of the brands he was representing. He encountered the man who would become his lifetime companion, as well as the whisky distributor he was searching for. He continued in the drinks industry for over ten years more, with ever-growing responsibilities, including heavy travel and representation, for which this sector is well known. Being a sociable and communicative extrovert, Brandon thrived in this field, and was a superlative networker across borders, cultures and languages. However, he had also had his first moment of doubts around the drinks sector a short while before, in Paris. A client had taken him out for the usual round of dinners, drinks "and more" and a particularly seedy situation arose, which felt like "a bridge too far" for Brandon. From that moment on, he increasingly questioned how happy this field could truly make him.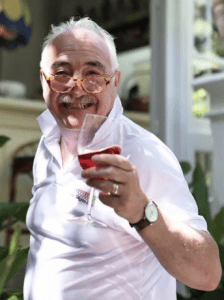 Name : Brandon Jones
Nationality : British
Living place : Sitges, Spain
Education : BA, French
Old business career : Food and beverage management in hotels, spirits distributor, BBC representative
New happy career : Bar owner, documentary maker
A little while before the Olympics were held in Barcelona in 1992, a business contact referred Brandon to the BBC, who were looking for trusted representatives and facilitators for the city. Thus followed a couple of years of an ambassadorial role, with less defined borders than in his previous corporate life, and Brandon found a new excitement and stimulation in the world of television: from the logistics, using his previously developed skills in hotels, hospitality, large scale events and tiny details, but also stretching him into considering what it took to do strong research or to tell a compelling story. He and his partner, Joan, were even the recipients of an award for their roles. Being in the limelight, while showcasing the achievements of others was a role he loved to play, and this gave rise to the choice of a sabbatical year, in which Brandon wished to explore how to become a TV professional.
By now based with Joan in Sitges, a small fishing village south of Barcelona, Brandon used his new-found passion for TV to build opportunities for himself. At the outset, he did some pro bono work on documentaries, and then created a daily spot on a local channel, exploring the lives of foreigners living in the Catalunya region. When necessary he "kept up the day job" for just a little while longer, despite his growing distaste for the drinks industry, by working as a consultant or a distributor for a small number of brands.
Around that time, the idea for the Casablanca Bar gradually emerged and became a reality. The pair envisaged the bar as a potentially lucrative affair, and a lucid step down from the high pressure of the drinks industry, as well as generating contact with a smaller, more intimate clientele. The other non-negligible aspect was that the cashflow generated from the bar would be invaluable as a subsidy for Brandon's documentary and TV work. So they began by opening up the ground floor of their house in Sitges. They were keen to create an establishment that would welcome a wide range of clients, from the rugby club to the "ladies of the English Theatre Club", from visitors to art exhibitions and cultural festivals to the Gay Sitges Link.
Brandon is whole-heartedly at the center of this high profile eco-system, as he continues to make documentaries about the region's people and history. This is where he finds the intellectual stimulation that might have been missing had he opted for only running a bar. His character has been ideally suited to this uniquely curated environment.
Does he have any regrets? "Emphatically not! Everything has happened for the right reasons at the right time. I have enjoyed creating deep connections with a huge variety of people over time, and they have all led to incredible experiences and opportunities." Could he have predicted that his life would have worked out this way? "Good grief, no. But destiny has played its role, and I have allowed things to flow as they should. I listened to my heart and I examined the evidence both for and against making the big move. I also had the courage to take the risk of trying something new with no guarantees, but encouraged by the serendipity of the BBC showing up and revealing a new passion for me". And, as he sips his signature cocktail, the Sitges Bloody Mary, with a dash of Manzanilla sherry, it is obvious that by stepping down, he has both created and sustained pure happiness.
Diane – from international cosmetic marketer to national park ranger  
Diane's dream when she was a little Parisian girl of 7 was to become a firefighter. She was a tomboy from the outset, enjoying the French upper-middle class activities of tennis, skiing, and hiking in the country. On the wall of her teenage bedroom was a poster of the legendary Uluru in the Australian outback. Her dream was to visit one day. She made her study choices dutifully. As is customary in France, being bright, she did a science-based high school, then studied business in a top "grande école". Her parents made it all about safety and security: if you work hard and go to the right school, you will get a stable job and be set for life.
Having met her partner early on in her study days, Diane was delighted to follow him to New York, where he was working for a French bank. She found an internship then permanent roles in marketing at L'Oréal. On the one hand she was grateful to have a career that was the envy of thousands of other young women, and on the other, she hated having to read Vogue magazine for her job, and was using every available holiday to go climbing, kayaking and exploring the great American outdoors.
When her partner received an offer to work in Sydney, Diane literally spent the evening jumping on the bed, urging him to say yes. Uluru was finally on her horizons. While she had already received several offers to work at L'Oréal locally, she knew it was time to start pushing the envelope. So, through volunteering for an adventure race organization, she began to sense that her future lay in working outdoors, however "unimpressive" that might appear back in Paris or New York. She was still tempted to take the safe road and accept the job with L'Oréal, but concluded that it would be harder to get out of such a compromise than to get into this challenge.
So, valuing the "good vibe, the happy environment, and working from home", Diane got involved in organizing the races, and did so for five years. She felt that the "laughable salary" was quite OK, compared to the pleasure she derived from her work.
Name : Diane Chanut
Nationality : French
Living place : Petermann, Northern Territory, Australia
Education : Master in Management, Certificates in conservation and land management
Old business career : International marketing management at L'Oréal and at event management company
New happy career : Senior Ranger, Parks and Wildlife Commission of the Northern Territory
Next, she became tempted to be a ranger in a national park. But the need to be an Australian citizen to access that path was initially a big hurdle, not to mention that her partner's job was at a bank in Sydney, and there would be no chance of moving to the outback. Once again, destiny played its role, and a hiccup in the relationship led them to part ways. Her parents urged her to return to France, but she wanted to stay and see what happened next, taking some time out to go and hike a 250-mile trail in the middle of Australia. She enquired of the ranger who dropped her off at the starting point "how did you get into this job?" The answer was a warning about the difficult lifestyle: loneliness, heat, scary creatures, and so on. The red rag had been waved at the bull, and Diane moved to Alice Springs a couple of weeks later.
A series of volunteer roles ensued, with a frame of mind of "what is there to lose?" and "nothing is impossible". This period allowed Diane to learn about the various aspects of the outback: fauna, flora, landscapes and survival skills. She made sure she was in the right place at the right time, stepped up to any opportunity, and after 8 months, got the job as a Junior Ranger at Finke Gorge National Park. She invested in her continuous education both on the job and remotely, and through her energy and willingness to take on any new challenge, Diane got frequently promoted and moved around the country.
Having embraced the content and context of her new life fully, Diane reflects on some of the challenges: "Being away from my best friends is tough, wherever they might be based, as my life is by definition isolated. My dog is not really that much of an intellectual conversationalist, so I have to be constantly inventing ways to keep sane, happy and balanced, beyond the pleasure of the actual job. She manages the salary cut "by not being a big spender anyway".
Diane is constantly badgered by family as to whether she will ever come back. "They cannot understand that the weird mix of my life far from home makes me happy. They are also concerned about the physicality of the job – and I am not a spring chicken any more. But what makes me happy is being outside. I get to see snakes, and insects and flowers and the seasons. That is gold."
One of the benefits for Diane of her chosen career is the sense of liberation it has created: "You try things, you fail, you learn and you bounce back. Such a contrast to France, where failing quickly leads to stigma. And there is nobody else to blame – you make do with what you have and create what you can".
Another freedom Diane is enjoying is that of planning for her pre-retirement plan: in Antarctica. This involves studying a new subject, like meteorology or teaching, and multiple resilient applications to access a highly sought-after program.  She sees possibility everywhere, and believes, "If I open a lot of doors I will never be stuck in a corner."
Her advice to those who hope for more happiness than duty in their careers? "Take a year off! How can you know at 18 what you want to do with your life? Experiment in traveling, languages, cultures, ways of thinking. You might find something you really want to study, not what you 'should'". Diane also recommends coaching and quiet reflection. She sees the fruit of her mid-career pause, and encourages all to take the time to create new ideas and realities.
Meantime, she muses: "There is a serenity and a joy in just being in this landscape. It runs deep. Telling my story feels so natural now, and it does not feel as drastic as others observe. It flowed and led to what I do today without it being such a hard thing to do. I feel like I am confident, and recognize there are still things I don't know. I am very open to what comes next." Antarctica or something not yet imagined, we will not be surprised.
Clearing the path to career meaning and happiness
What can we learn from these stories of massive change in the pursuit of happiness? First, we observe that two out of three of them involve people who had "no idea" what might make them happy later, but found a way to follow their hearts, once opportunities to step away revealed themselves, whereas the third had basically always known where her heart lay. She was just the good girl who followed society's and her parents' expectations for her, until she found the courage to pursue her original dream. So it is clear that there are deeply different paths towards career and life happiness, which involve more or less consciousness or clarity about where we are going and why. One previous article which shows clearly how the process might be accelerated, and how the outcomes lead to even more meaning in career is here.  However, the other overriding conclusion we find is one that was reflected back to us even before we started writing, and that was the question of stepping "down". While, indubitably, all our stories have required financial and economic compromise, not one of our subjects has felt significant regret on that front. What a friend observed is that perhaps they are not so much stepping down but up to a completely different level of sense and satisfaction. And this may be the key that more and more people are flailing around looking for. The answer is that it is often "just in front of you", but perhaps not in the form you might be expecting.
In the end, taking a step down can be a viable choice, and many who made that courageous decision eventually look back at this as one of the most important turning points for the better in their career.
8 tips for making your own step down to find more meaning and happiness
1 – When you have a hunch about something being of interest to you, in life, pay attention and take action
2 – Don't assume that your passion translates directly into your career, but learn to think about it from all sides
3 – Choose your moment: consider finances, logistics, academics, support and more, before you launch into the stratosphere
4 – Assume that some sort of extra education or training will be necessary, along with massive conviction that what you are starting late in life is going to be valuable
5 – Never say no to a conversation about a new opportunity to explore something – you can always say no if you get an offer!
6 – Prepare to make compromises along the way, and for the unexpected to intervene; be humble, ask for help
7 – Look for new angles constantly, practice lateral thinking in all aspects of life, and this will find its use in your professional life at the right stage
8 – Be willing to listen carefully and tune in to who you are, your values,your priorities, and then use that to follow your heart as well as your head.